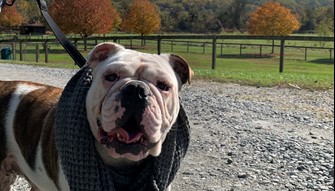 To our Main Line Animal Rescue family,
Like so many of you, we are carefully monitoring the progression of the COVID-19 pandemic in our community. As you are well too aware, this is a situation that is changing constantly, and these changes impact our operations at the farm.
Animal rescues like MLAR are considered 'life-sustaining' and we are therefore not subject to mandatory closures imposed by the Governor of Pennsylvania on March 19.  We remain dedicated to ensuring the health and safety of the animals in our care.  But at the same time have placed restrictions and processes in place to protect the health and safety of our employees and volunteers.  Our veterinarian and nurses are caring for our most critical animal patients, our animal care staff is ensuring all of our animals are fed, watered, cozy and loved, and it should go without saying that our vast community of volunteers are here daily, providing individual attention to our animals.
We are still working hard to place animals in homes, whether they are temporary foster families, or through the limited adoption appointments we are able to continue at this time. And similarly, we are working to ensure we can be there for animals, and their families, in need in the coming days, weeks and perhaps months as we navigate this new, and ever changing, normal.
When we look out across the farm, it is tranquil and perhaps now more than ever, its beauty is so evident. We know the world around us is anything but tranquil right now, and the beauty can be hard to find, but we have accomplished so much together, and together we will get through this and find that beauty again.
In the meantime, we will keep you up to date on changes here at the farm, and promise to continue our mission.
For those who can, please donate to our lifesaving mission as we work to continue our efforts: