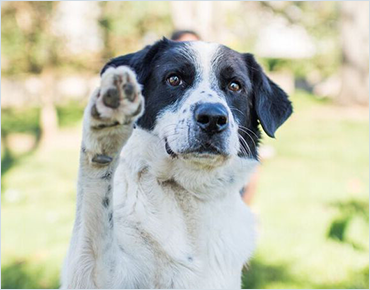 Main Line Animal Rescue's guide to adoption
Thank you for your interest in adopting a pet from Main Line Animal Rescue. Meetings with animals are by appointment only. Please read below to learn more about our adoption process and after you have completed our online application a volunteer will call you to schedule an appointment. Our goal is to unite pets and people to form loving and lasting families. We take into consideration both the family's lifestyle and the individual personalities of our animals.
INFORMATION FOR MLAR ADOPTERS
If you are adopting a pet from MLAR please visit our online portal to access our adoption contract and important information for your new family member.
Learn about our adoption process
Before applying for an animal, please review our policies & best practices outlined below:
IF YOU ARE INTERESTED IN ADOPTING A DOG:
MLAR adopts to families with excellent vet references, a traditional fence or a professionally installed underground fence system PetStop and Invisible Fence brand. Dogs must be able to access the fenced in yard directly from a door in your home.
A MLAR volunteer will conduct a fence check/home visit prior to adoption. If you have an underground fence, your flags must be up and you will need to have a working collar for every dog in your home.
IF YOU ARE INTERESTED IN ADOPTING A CAT:
MLAR adopts to families with excellent vet references, who are committed to providing a safe, humane and loving home for cats. We do NOT require a fence for cat adoptions.
If this is your first time adopting a pet, and you do not have vet references, we certainly take that in to consideration during the adoption process.
Families who have had pets previously should have vet records indicating: that all pets were up to date on all shots, pets were spayed/neutered, and pets had annual wellness visits to the vet.
Bringing your new pet home
When it is time to go home, we ask adopters to bring their own secured carriers
for safe transport home.
We cannot "hold" a dog while families go on vacation. If you are planning a vacation, please wait until you return home to start your search.
All of the animals at MLAR are up to date on their shots and are microchipped. We will provide you with these records.
MLAR is very interested in the welfare of our animals so we will check in with you periodically to see how things are going. We are also happy to help you in any way at any time if you have a question about your pet; please don't hesitate to call us if you need assistance. It is our policy that any animal adopted from MLAR must be returned to MLAR if there is a need to find a new home.
Benefits of adopting from Main Line Animal Rescue:
• All animals are examined by a veterinarian
• All animals are up to date on all necessary vaccinations
• All cats and dogs are microchipped
• All pets are spayed or neutered before going home (pets under 6 months may come back to MLAR for free spay/neuter)
• Dogs will go home with a new martingale collar, leash, and MLAR identification tags
• Support and information from the experienced staff and volunteers at MLAR
Policies and procedures for adoption
At Main Line Animal Rescue, everything we do is designed to unite pets and people to form loving and lasting families. We take extra care and pride in everything we do, and look forward to working together so we can match you with your new pet.
To schedule an appointment, please complete our online application.
BEFORE SUBMITTING, PLEASE READ AND AGREE TO ALL TERMS AND CONDITIONS BELOW:
There are millions of homeless pets across the country; if you do not live within our adoption area please check Petfinder.com and your local animal shelters for other pets who are waiting to be adopted.
Once an application is submitted, we will proceed with checking your vet references.  Please provide a phone number for your vet listed on your application.  If you have had a pet before, we are looking for a consistent vet history, indicating that you have had at a minimum annual vet visits for required shots and that all of your pets have been spayed or neutered. We are unable to adopt to families with pets that are not neutered/spayed, unless there is a medical reason that is explained to us by your veterinarian.
If an application is complete and fits within our requirements, you will hear back from us within 72 hours.  Please keep in mind that any false, incomplete or withheld information will cause us to void your application.
During your adoption appointment you will be meeting with a trained adoption counselor who is familiar with the pet(s) that you have applied for.  Our visits are by appointment only so please come at your appointed time to be sure the volunteer is available to work with you.
It's possible that we will not have the right pet for you at this time; please check back as we get new animals daily.
We sometimes have multiple applications on a particular animal. Applications are not on a first come first serve basis; rather, we strive to find the most suitable and appropriate home for each animal.
If we have a dog that is the right match, we will come to your home and check your fence to make sure it is secure (we do not require fenced yards for cats).
Please let us know if you would be willing to install a fence if you do not already have one.
All applicants must be at least 21 years of age.
If you are visiting Main Line Animal Rescue's property, you assume all risk of activities during your visit, to include interacting with animals.
I agree to all terms and conditions