Main Line Animal Rescue Making Headlines
NEWS AND PUBLICATIONS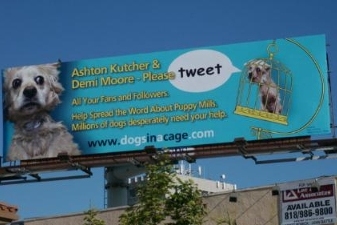 Ashton Kutcher and Demi Moore Asked on Billboard to Tweet and Help Dogs in Puppy Mills
PHILADELPHIA, June 1, 2011 / PRNewswire / -- "Thousands of puppy mills would close tomorrow if consumers simply adopted dogs from shelters rather than buying dogs bred in puppy mills and then sold in pet stores or over the Internet."
Main Line Animal Rescue wrapped transit buses in DC to pressure the USDA to enforce the few laws protecting dogs in our nation's federally licensed puppy mills. 
Interesting to know, our buses were so successful, the men and women who approve advertising in DC have banned bus wraps specifically mentioning puppy mills. In exchange for advertisers' cooperation they are now allowing them to advertise alcohol and cigarettes. Apparently, they would rather people die of lung cancer than stop the wide-spread abuse in our nation's puppy mills.
Spreading the Word.
MLAR Brochures
Main Line Animal Rescue's brochures are often kitschy, sometimes serious, and always informative. We are known for our distinctive printed materials and they have been extremely effective in advancing MLAR's mission and helping us raise the necessary funds to support our lifesaving programs.