Advocacy through education
Advocacy through education should be an essential aspect of any companion animal rescue. At Main Line Animal Rescue, we put education at the forefront of our efforts. MLAR raises awareness about the importance of fighting for the welfare of our nation's neglected animals, as well as pet responsibility, kindness to animals, safety around animals, and puppy mills.
Volunteers participate in outreach programs by helping animals at the shelter and by brightening the days of their fellow humans. MLAR tailors educational presentations to specific audiences, incorporating age-appropriate printed and audio-visual materials to inspire those who want to make a difference in the community.
Interested in learning more about MLAR's education
and outreach programs?
Please email info@MLAR.org
Visiting Local Schools, Libraries,
& Humane Education
Over the last ten years, ​MLAR's education and outreach programming has ​connected with adults and youth alike in Bucks, Chester, Delaware, Montgomery, and Philadelphia Counties. All programs, presentations, and tours have been complimentary.
• Beautiful Beginnings Nursery School
• Daisy Troops and Girl Scout Troops
• East Pikeland Elementary School
• Eastown Library
• Episcopal Academy
• JCC (Jewish Community Center)- Wynnewood
• Knapp Elementary School
• Little Gym (Newtown Square)
• Owen J Roberts Elementary School
• Radnor Elementary School
• Ray of Hope Project (Philadelphia)
• Royersford Library
• Spring City Library
• Spring-Ford Elementary School
• The Cambridge School
• The Vanguard School
• Unionville Elementary School
• Royersford Library
• West Chester East High School
MLAR University
In keeping with Main Line Animal Rescue's mission to raise awareness of the plight of homeless animals and the benefits of adopting an animal in need, MLAR University provides opportunities to educate and advocate for the welfare of animals. With engaging presentations and workshops, the MLAR community can grow and flourish as a collective voice for those who have no voice.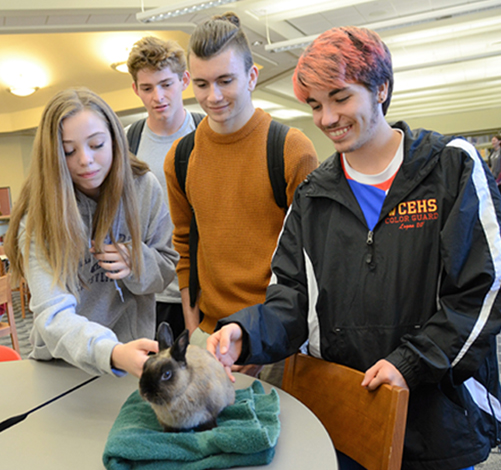 MLAR University is offered for volunteers and staff. Workshops include:
• CATification
• Essential Oils For Animal Health
• Grooming 101
• HOPE (Helping our Pets Excel)
• Pet CPR
• Birding with French and Pickering Creek specialist
• Animal Communicator
• Pet Safe Plants and Making your own succulent garden
• Bunny Brunch
• Doga (Finding your Chi with your Chihuahua)
FINDING A LOST PET
When your pet strays from home, it can be a traumatic experience for both of you. Here at Main Line Animal Rescue we want to help educate you in ways to prevent lost pets and offer helpful tips in finding them if do they get lost.