After much consideration, the Pennsylvania SPCA has decided to go fully virtual again for this year's Bark & Whine Gala on Saturday, November 13, 2021.

We, like many of you, are disappointed to not be able to gather in-person again this year but we do look forward to planning a new and exciting Happy at Home…Again program.

Please join us from your home as we honor Katie & Marc Hembrough, long-serving animal advocates and passionate supporters of our Humane Law Enforcement efforts; recognize HLE Officer Leonard Knox who is retiring after 40 years of service to the PSPCA, and celebrate the PSPCA's mission of service to animals across Pennsylvania.

Thank you in advance for your unwavering support of our mission and this event.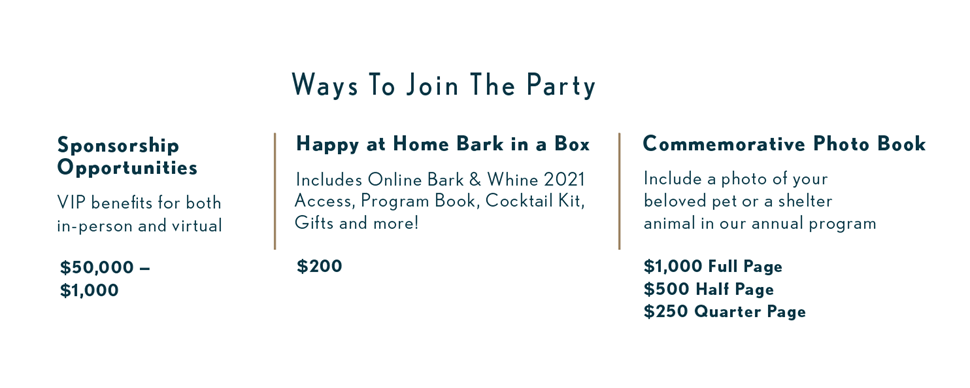 Click here for Sponsorship Opportunities, Bark in a Box purchases and more! 

Thank You To Our
Bark & Whine 2021 Sponsors*
Howl at the Moon - $50,000
Jean & Jeff Griffiths
Katie & Marc Hembrough and
Wharton Business Group
Gerald B. Shreiber Foundation


Leader of the Pack - $25,000
Pamela & David Berkman
Carol Erickson
Helene & Archie van Beuren



Best in Show - $10,000
Leslie & Bill Briley
Cori Daggett & Jon Kaplon
Penny & John Ellison
Anne & Matt Hamilton
Julie Klim
Lindy Snider & The Snider Foundation
Molly Whitehouse & Newmarket
Something to Bark About - $5,000
Arlene Caney
The Lewis Dries Group at Morgan Stanley
Gregory Dries, Senior Vice President, Financial Advisor,
Bob Lewis, Senior Vice President, Financial Advisor
Goshen Hill Foundation
Linda & Tom Knox
Mickey & Larry Magid
Greg & Christy Pitchford
Sharon Hirth Quinn & David Quinn
Elisabeth Hasslacher Shreiber & Lindsay Shreiber
Tito's Handmade Vodka
Leigh & Charles Waring
Happy Tails - $3,500
Gallagher
Lee Halladay



Pick of the Litter - $2,500
Randi Skibinsky Abramson & Howard Abramson
Alonso Family Fund
Anonymous
Shauna & Jeff Binswanger
Marc & Amy Brownstein
Jim Clayton
Cozen O'Connor
Friedman Financial LLC
Sharon Hoover
Ruth & Richard Horowitz
Barbara & Joseph Kesselring
Parallel Edge, Inc.
Jill & Jon Powell
Republic Bank
Marguerite Rodgers Interior Design
Marguerite V. Rodgers and James Timberlake
Candace Sneberger & Archie Hendricks
VCA Hospitals
What a Good Dog - $1,500
Tania and Mark Alexander
Bonnie and Edward Chong
Marguerite Kraftson Fell
Allison & Aaron Greenfeld
Peggy & Harold Katz
Debbie & Alex Kaufmann
Fred Manfred
Kimberly Murphy
Dr. Margaret M. Preston & Philip G. Kircher
Soozung, Brian & Robert Rankin
Alison Besser Stoekl & Bruno Stoekl
Jill & Eric Sussman
Mary C. Walto & James M. Fernberger
Jessica Weisbrot
Jackie & Larry Weitzner
Cat's Meow - $1,000
The Le Vine Foundation
Bonnie & Peter Motel
PetHealth Inc.
*sponsorship listing as of August 23, 2021