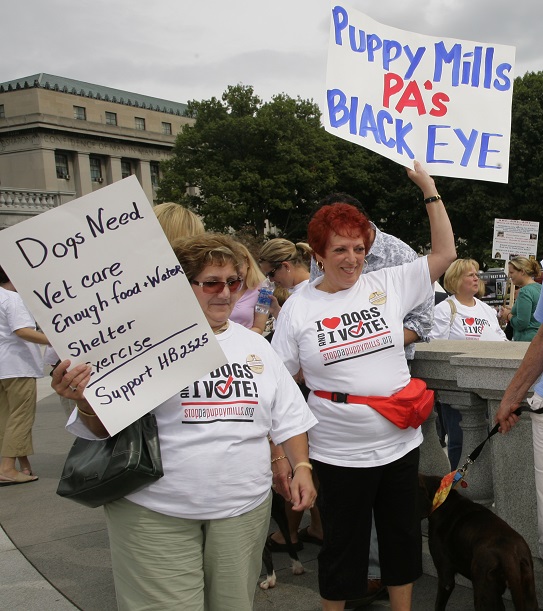 Our Program
Main Line Animal Rescue's programs support advocacy and create awareness about puppy mills, animal rehabilitation, and education. These and other programs are designed to further our mission to fight for the welfare of all animals.
Putting an End to Puppy Mills, Oprah, Lisa Ling, and Our Report that Changed Everything
Main Line Animal Rescue is nationally recognized as a pioneer in the fight against the exploitation of dogs and inhumane living conditions in our nation's "puppy mills." In 2008, we erected a billboard in Chicago asking Oprah Winfrey to "please do a show on puppy mills, the dogs need you!" The groundbreaking and award-winning expose on puppy mills featured an undercover investigation with acclaimed journalist Lisa Ling. Our continued work on behalf of puppy mill dogs has been profiled in People Magazine and featured on the Today Show, Nightline and numerous Animal Planet television programs.
Putting A Stop To Inhumane Practices In PA
Main Line Animal Rescue was almost single-handedly responsible for banning gas chambers in the state of Pennsylvania along with Representative John Maher. We were also responsible for the removal of the remaining dogs from the last facility to use gas chambers in PA, an exterminator in Pittsburgh.
Adopt! Don't Shop! – Our Philosophy
With so many wonderful animals looking for homes currently in shelters all across the country, families should always consider adoption from a shelter or responsible rescue group. If you are looking for a particular breed, a quarter of all animals found in shelters come from breeders and are considered "purebred", so please adopt, don't shop!
6.5 million companion animals enter animal shelters nationwide every year. Of those, approximately 3.3 million are dogs and 3.2 million are cats.
Each year, approximately 1.5 million animals are euthanized (670,000 dogs and 860,000 cats).
3.2 million shelter animals are adopted each year (1.6 million dogs and 1.6 million cats).
The majority of pets are obtained from acquaintances and family members. 28% of dogs are purchased from breeders, and 29% of cats and dogs are adopted from shelters and rescues.
According to the American Humane Association, the most common reasons why people relinquish or give away their dogs is because their place of residence does not allow pets, not enough time, divorce/death and behavior issues. The most common reasons for cats are that they were not allowed in the residence and allergies.
Thousands of animals are regularly turned away from shelters because of health issues and lack of adoptability. The more often animals are adopted, the more space becomes available for these pets.